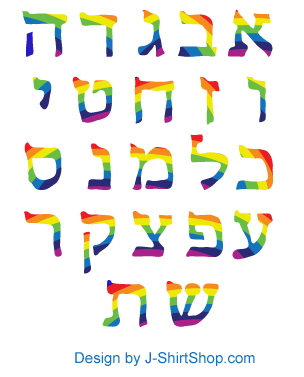 I am excited to share with you my new Alef Bet  Design Collection from my website  J-ShirtShop.
This beautiful design of the hebrew Alef Bet was inspired by the rainbow. My kids have a fascination with rainbow and I thought it would be fun for them to learn the hebrew alphabet with this fun design.
The Hebrew  language uses a different alphabet than English. Hebrew is written from right to left, rather than left to right as in English, so Alef is the first letter of the Hebrew alphabet and Tav is the last. The Hebrew alphabet is often called the "Alef Bet," because of its first two letters.
The Alef Bet gift collection includes unique t-shirts and gifts for jewish babies, kids and adults.
Favorite products from our Alef Bet Collection by J-ShirtShop