Check out our new 2 new designs! My daughter loves to paint and draw and is happy to work on an art project at any time. My son on the other hand, is into sports, you name it and he wants to play it!
So in order to please them both, which as you can imagine is not always easy, I created the Monkey at Tennis and Monkey Artist designs.
But of course that wasn't enough, they wanted to have the actual monkey t-shirts, so here they are!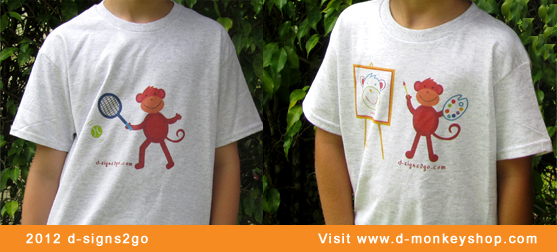 Monkey gifts are perfect for kids, monkeys are fun for everyone! And are a part of nature that brings us love, cheerfulness, energy and cleverness. Our cute and fun t shirts include all kinds of monkey personality types in a playful way.
Monkey tee shirts makes for an unforgettable gift for kids. Find the perfect funky monkey tee shirts for monkey lovers. Check out our carefully selected collection of monkey t-shirts and be sure to let us know if we have missed any… d-monkeyshop.com is your one stop monkey store for the monkey lovers.